Last week I visited the Fab Lab Barcelona at the Institute for Advanced Architecture in Spain!
They did a nice workshop with my students where they showed us how to scan your head, make a cast, and then mold chocolates in the shape of your head! Here is a tutorial on that process
I was inspired to try to do some culinary experiments in our lab.
Since it was lunch time, I went out and got some bread, ham and cheese.
First I tried to cut the cheese like Marilyn Monroe.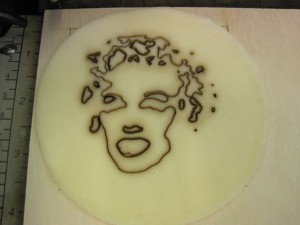 It did not come out the way I'd hoped. The laser melted the provolone and then when it cooled down, it congealed back together and to the wood platform below: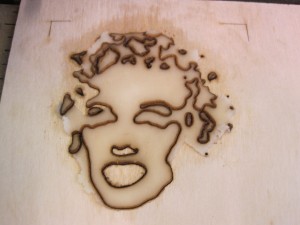 I'm going to experiment with different cheeses and settings on the laser cutter.
I also tried to etch a picture of my face into toast. Obviously the I need to tweak the settings to get this to work. Also, I'm not sure how to get the focus right since bread is so porous. I can focus on the top of the bread. But it seems to me that 90% of the surface is below the top in the air bubbles. I'll have to keep experimenting with this because I know it's possible. I think if I turn down the power on the laser, I can get more detail.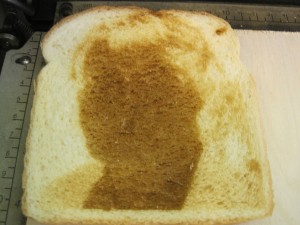 Here is the source image: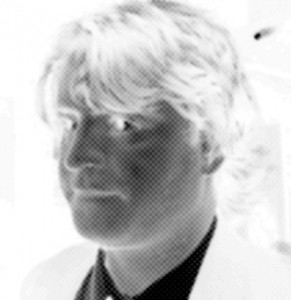 In the end I got hungry and made a sandwich.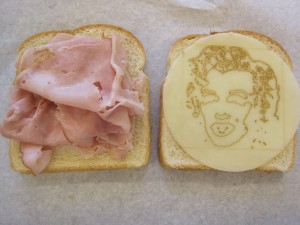 This morning I hosted Linda Vasu and a group from Sacred Heart, Greenwich (another all-girls school) on a tour of the Fab Lab and 97th street facility. They are hoping to build a digital fabrication facility for their students, so I offered to meet with them. I got a nice note from Linda afterwards saying:
You are a wonderful ambassador for teaching, learning, your school and Fab Labs!

It was a great opportunity to get our minds working as we think about next steps.

A million thanks for hosting us, and giving us so much of your precious time.
I told them that I was trying to document everything that I did in the Fab Lab during Spring Break so they obliged me with a photograph.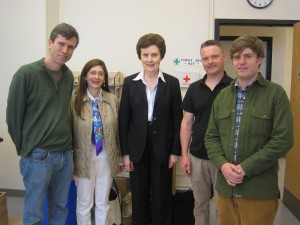 So on day 2  I got pulled into meetings with administration. We are working on a grant application to start a Saturday Fab Lab program for girls in the lower East Harlem community. The application is due on Friday, so we are franticly trying to pull everything together.
There was some excitement. Law and Order: SVU is filming an episode inside the school. Look for a murder in a science lab next season.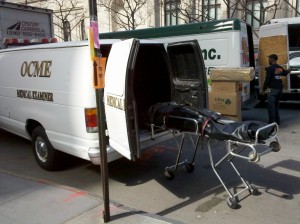 This is a project I've been thinking about since September and I finally had time to hack together a prototype.
I want to build a tool to help teachers learn student's names faster. This may seem like a minor problem to solve, but in fact, it is really important. It's much easier to conduct a classroom when you know all the students names. I have over 200 students. It's March. I'm still struggling to learn all their names.
Luckily I know someone who already built a tool for this. A few years back, Rob Faludi used Processing to build Social Genius, a game for learning our classmates names at NYU ITP. http://www.faludi.com/socialgenius/
I reached out to Rob to see if he'd mind if I hack his code to make a version for Marymount students and teachers. He told me that my friend Matt Parker had taken over the project. So I reached out to Matt!
I met Matt at Eyebeam to check out his incredible 3D volumetric display, Lumarca and convince him to help me make Marymount Social Genius.
Matt had translated the game into a web app and was happy to help. He sent me his code for this: http://madparker.com/nyupractice2011/ He made it for a games conference. It was written in HTML5 and java. Works great on all pc and mobile browsers. Wonderful.
It took me about 30 minutes last night to hack a prototype for Marymount using the 4th grade class. I can't share it because it uses images of students. But trust me, it works great.
Today, I'm going to share it with Jane Bell, the head of the middle school. If she gives me the OK, I'll make password protected versions for each grade and share them with teachers for next year.
Now I just have to convince Matt to let me share the code with other schools…
Marymount is offering professional development classes after school on Mondays and Wednesdays. Frank Migliorelli is teaching a class on Story, Design, and Learning. Our second assignment was to make a short film title video.
A few weeks ago, David Valdini took some pictures as I showed a small group of girls how to use some of the machines in the Fab Lab. When I scrolled through the pictures later, it reminded me of a stop motion animation or old-timey silent film. I wanted to combine them into an animation and then Frank gave us this assignment, so I had the perfect excuse.
I made the music by finding a midi file of Maple Leaf Rag and then recording it with a electronic sounding instrument in GarageBand.
Yesterday I finished the video by making and filming the final "A Marymount Fab Lab Production" bit. I used the lasercutter to cut the letters and the exhaust of a vacuum cleaner to blow them away. The sequence is slowed down and played in reverse.
I think it came out OK. The shooting stars in the title slides are annoying, so I'll have to take some time to make a custom title slide. Also, I'd like the film to have more of a story arc. I showed it to David and he is willing to do another photo shoot, but next time we will stage it with a story in mind.
I forgot to attribute the photographs to David Valdini. So I'll have to go back and fix that at some point.
One Day in the Fab Lab from Jaymes Dec on Vimeo.
We have at least 10 rolls of vinyl in our closet in all different colors. This is not the best way to store them. An off the shelf vinyl storage system is really pricey, so I am building our own custom solution.
Each roll will be held by a 1 inch dowel that rests on a rack hanging on the wall. Today I laser cut a prototype for that rack: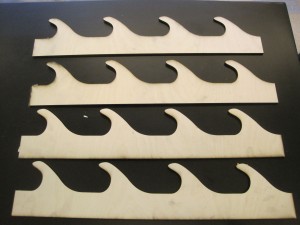 The next step is to purchase the dowels and some thicker wood to cut the rack on the ShopBot.
Occasionally on your Thing-o-matic, you have to tighten the rubber belts that move the X and Y axes. The motor adjustment screws for the Y axis are easy to access, so tightening the belt is simple. But the X axis motor is inside the Y axis carriage and it's not easy to tighten without taking the whole X/Y carriage out of the machine.You can access the motor by taking the top left cap off the Y axis carriage, but you can't reach two of the four screws needed to tighten the belt because they are under the front X axis rod. Unless you know this simple pro-tip:
If you file flat the corner of each of your front left X rod holders like this: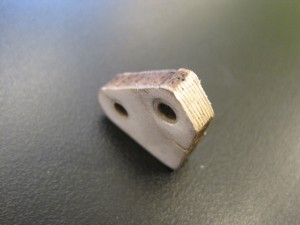 Then you can just rotate the rod holders and slide out the rod whenever you need to tighten your X axis belt. See: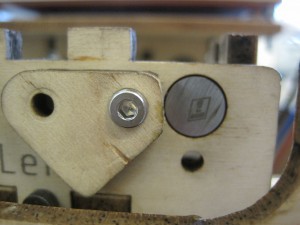 After tightening your belt by sliding the motor back, just slide the rod back in and swivel your end cap to hold it in place. I don't even use the second screw so that I can do this by hand.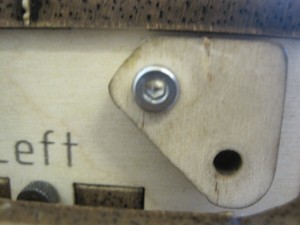 Thanks to Jon Santiago for showing me this MakerBot Pro Tip.©©
I'm off to a really productive start.
Yesterday I printed a few small projects for some grade 6 students on the MakerBot. The students designed these on TinkerCAD.com: a ruler, two couches (one shaped like an S) and the "Melanie" name plates.
I'd really much prefer if students did their own printing, but they are so over-scheduled that it's hard for them to handle their own print-queue, so I wind up doing a lot of printing for them. I'm hearing from other school MakerBot operators that this is a common problem.
Here's an idea for a possible solution. Students check a website to look for an ethernet link to an open MakerBot (we have three set up right now). If they find that one is being unused, they can send their file to that MakerBot over the network. Of course, someone would have to be in the lab to remove the finished print. This setup would require a bit of hacking, as MakerBots don't have an ethernet port, but I think it should be possible to hook up a Lantronix Xport.
An easier solution might be to send the Gcode file to a dropbox, then use a Screen Sharing application to control a remote computer connected to the MakerBot. It would still be helpful to have a site that told you which MakerBots were open (and what color ABS was on that bot). I'll have to try this sometime soon.
The next two weeks is Spring Break. I finally have some time to tinker in the Fab Lab. Along with a small backlog of student projects to laser cut and makerbot, I've had a few ideas for small projects and experiments in making. As part of a greater effort to document more of my work, I am going to be posting all of the results here.
This is really smart. Instead of tutorials on how to build whole projects, this site just focuses on short and simple tutorials for specific parts.
Pretty much anytime I've had to find an example of how to use a new part, I've used a tutorial for some other project that uses the same part. The result is often frustrating. I need to extract just the information I need from a whole multi-page tutorial.
Not anymore. Now I can just visit bildr and see the quick and easy way to just hook a component up to my Arduino and get the code working. No more, no less. Slick. Thanks bildr.